Custom CAR-NK Cell Manufacturing
ProMab's CAR-NK Cell Engineering Custom Service Platform
ProMab has developed a novel cutting-edge platform to assist researchers in engineering chimeric antigen receptor (CAR)-expressing Natural Killer (NK) cells, with CAR mRNA transcription or LNP particle transfection as a gene delivery option, and is proudly offering this new service to its customers. The aim is to accelerate the research and development of novel immunotherapies against cancers such as multiple myeloma, leukemia, sarcoma, neuroblastoma, and more.
Natural killer (NK) cells are potential effector cells in cell-based cancer immunotherapy. They are a universal, fast cellular therapy previously used in clinical trials with modest responses; however, their oncolytic potential can be enhanced by genetic modification. Primary NK cells and NK-92 cell lines show strong antitumor effects. The chimeric antigen receptor (CAR) is an artificially modified fusion protein that consists of extracellular antigen recognition domains fused to intracellular signaling domains: co-stimulatory and activation domains. An image of CAR construct is shown in Fig 3. The CAR enables the NK cells to recognize and kill tumor cells via specific target antigens expressed on the surface of the malignant cells. CAR-NK cells show higher cytolytic activity than memory T cells and untransduced NK cells; therefore killing of tumor cells is more efficient.
CAR-NK cell engineering technology and service
Please Contact Us Here for more information, e.g. timelines and costs, or to speak with a technology specialist.
CAR-transduced NK cells (CAR-NK) exhibit several advantages versus CAR-T cells, such as their safety in clinical use, the mechanisms by which they recognize cancer cells, and their abundance in clinical samples, demonstrated by multiple clinical trials.
| | | |
| --- | --- | --- |
| CAR-NK | | CAR-T |
| NK cells can be generated from various sources: cord blood, bone marrow, human embryonic stem cells, induced pluripotent stem cells, and peripheral blood. | | T cells are isolated from peripheral blood, either form the patient (autologous) or from a healthy donor (allogeneic). |
| NK cells exhibit intrinsic cytolytic activity, and thus should still kill tumor cells that have downregulated the antigen. | | T cells only kill cells that have the specific antigen, so they are not effective against tumor cells that have downregulated the antigen. |
| NK cells produce cytokines such as interferon-gamma, interleukin, and granulocyte macrophage colony stimulating factor (GM-CSF). | | T cells produce proinflammatory cytokines responsible for the onset of cytokine release syndrome (CRS). |
| NK cells don't cause Graft versus Host Disease (GVHD) or cytokine release syndrome (CRS). | | T cells may cause Graft versus Host Disease and usually cause cytokine release syndrome (CRS). |
| NK cells can survive after contacting and killing multiple target cells, so fewer NK cells are needed. | | T cells are ablated by checkpoint proteins after killing multiple tumor cells, so large numbers of T cells are needed. |
| NK cells have a limited lifespan, so they are removed by the body after they kill the tumor cells. | | T cells exhibit long-term persistence, which could be a problem for on-target/off-tumor toxicity. |
Table 1. Advantages of using CAR-NK cells over CAR-T cells for cancer.
Until recently it was difficult to generate large numbers of CAR-NK cells with high purity. However, ProMab Biotechnologies' recently developed CAR-NK engineering platform has overcome these challenges, using an optimized cell expansion workflow (Fig 1) and options to use either CAR mRNA electroporation or lentivirus transduction (Fig 2). This achieves better efficiency and even faster turnaround time overall. Our scientists can construct a CAR based on your antibody, an antibody we generate, or an antibody from our human antibody display library. In the past 5 years, ProMab Biotechnologies has developed over 60 types of CAR-T/NK cells and target cells for clients, using several patented innovations in CAR construct design.
ProMab's custom CAR-NK constructs and cells are for research and preclinical use only.
We have service plans that include monoclonal antibody development or are based on using your existing antibody sequence to generate the CAR constructs. When the antibody has to be developed, Plan A is available starting at $22,500. When you provide the antibody, Plan B starts at $16,950.
Plan A - Client receives 2 clones of hybridoma cell lines along with 2 x 108 CAR-NK cells (cryopreserved).
Plan B - Client receives 2 x 108 CAR-NK cells (cryopreserved).
Figure 1. Expansion of NK cells from PBMC. NK cell purity was >80% on day 9 and >95% on day 14 of culture. NK cell numbers expanded 35-fold on day 9 and 75-fold on day 14.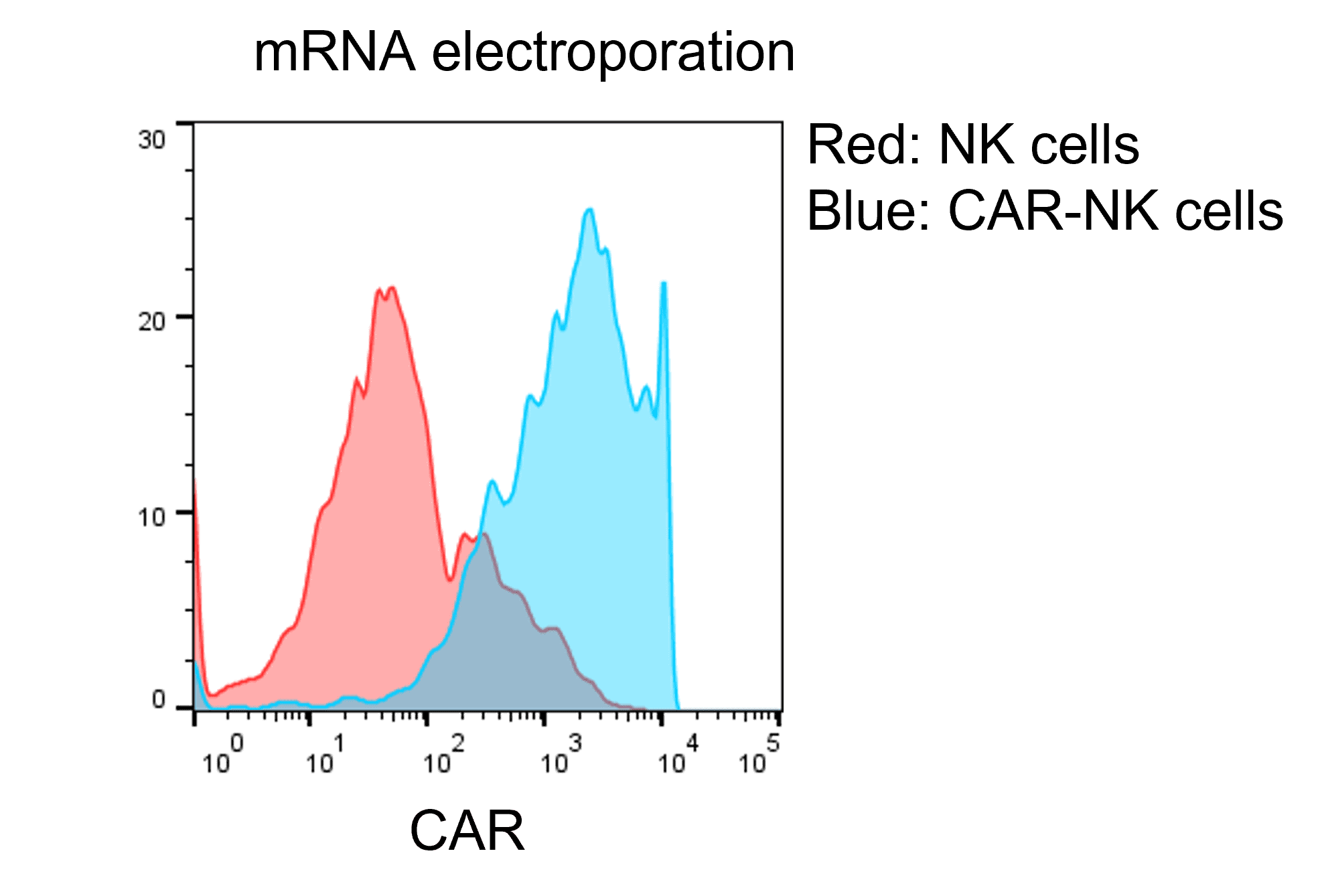 Figure 2. CAR expression by primary NK cells. Left: human PBMC were transduced with lentivirus encoding the CAR; seven days later, gated NK cells were analyzed by flow cytometry for CAR expression. Right: NK cells were generated from human PBMC, electroporated with CAR mRNA and analyzed by flow cytometry for CAR expression 24 hours later.
Figure 3. Top left: CAR construct plasmid. Top right: CAR construct design options. Bottom: CAR-NK workflow showing lentivirus transduction; mRNA electroporation is also available instead as an alternative to lentivirus transduction, see Figure 2.
Service Plans and Prices
PLAN A
| DEVELOPMENT STAGE | DESCRIPTION | Price |
| --- | --- | --- |
| Phase I (optional) | Immunization of Balb/C mice with recombinant protein or carrier-conjugated peptide. Generation of hybridoma cell lines following antibody validation against the correctly-presented antigen. | $6,995 |
| Phase II (optional) | Sequencing of the antibody's heavy and light chains. | $1,800 |
| Phase III | Synthesis and cloning of an scFv with selected CAR domains into a lentivirus vector. Generation of 1x108 lentivirus viral particles. | $7,000 |
| Phase IV | Transduction with lentivirus or electroporation with the CAR mRNA. FACS analysis to validate CAR expression in NK cells. | $6,000 to 8,000 |
| Phase V | Measurement of CAR function: real-time cytotoxicity assay, quantitation of cytokine production (IFN-γ, IL-2, Granzyme B, GM-CSF). | $7,000 |
PLAN B
| | | |
| --- | --- | --- |
| DEVELOPMENT STAGE | DESCRIPTION | PRICE |
| Phase III | Synthesis and cloning of an scFv with selected CAR domains into a lentivirus vector. Generation of 1x108 lentivirus viral particles. | $6,000 |
| Phase IV | Transduction with lentivirus or electroporation with the CAR mRNA. FACS analysis to validate CAR expression in NK cells. | $6,000 to $8,000 |
| Phase V | Measurement of CAR function: real-time cytotoxicity assay, quantitation of cytokine production (IFN-γ, IL-2, Granzyme B, GM-CSF). | $8,000 |
| Phase VI | Tumor study in NSG/NOG mice. | Starting at $15,000 |
We also have off-the-shelf solutions that will quickly establish and advance your projects in the following areas: